Speeding up the sustainability transition to fibre to fibre textile recycling
How do we use public policy to speed up, and scale up, the sustainability transition in the textile sector? Thirty five experts from across the textiles value chain use the Cambridge Policy Boot CampTM (CPBC) method to operationalise textile recycling objectives of the European Union Strategy for Sustainable and Circular Textiles. 
Credit: Karina Tess at Unsplash
Resilience and Sustainable Development Programme (RSDP) leads bootcamp for youth leaders for Dhaka OIC Youth Capital 2020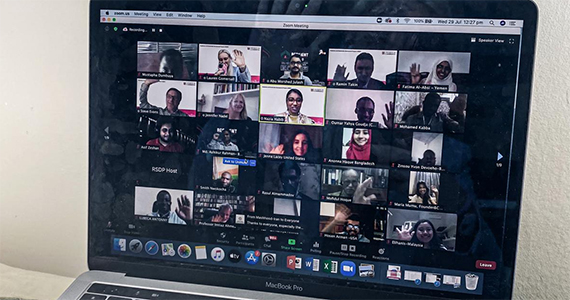 On 29 July, the Resilience and Sustainable Development Programme (RSDP) led a virtual bootcamp for more than 200 youth leaders from 74 countries in order to train these future leaders in the application of systems thinking to address humanitarian policy challenges.  Read More >
Kosovo National Audit Office  
Since declaring independence from Serbia in 2008, Kosovo, a country of fewer than two million people, has made progress in a number of areas. It has held four peaceful elections, and voters are becoming more sophisticated, requiring political parties to develop clearer ideologies and plans to implement needed economic and governance reforms. For its part, the Government of Kosovo is making and enforcing its own policies, most notably in macroeconomic management and public financial management. However, all is not well in Kosovo - the second poorest country in Europe - with around 17 percent of its people living below the poverty line, and unemployment rate having grown rapidly to stand at 52.4 percent (2019). Read More >
Childhood Malnutrition: The case of Yemen
Even in a fragile state experiencing civil war, where humanitarian aid dominates, there exists a broad range of untapped assets that can be activated to invest in long-term development of its children. To build a resilient peace, a country needs human capital, with citizens who are mentally and physically able to contribute to the functioning of its economic, social, and political life. Yet, in Yemen, nearly 2.7 million children under the age of five years are suffering from persistent malnutrition1 while the WHO estimates that 47% of children 6 to 59 months are experiencing stunting.2 Unchecked, this will undermine the ability of an entire generation to develop their human capital potential. Research has consistently shown that providing a minimum acceptable diet (MAD), and early childhood development education (ECD) for children under five years of age is the foundation of a productive, healthy adult. Read More >
Cambridge Policy Boot Camp (CPBC): Rapid Policy Articulation Method 
 The Cambridge Policy Boot Camp method is a policy system method for discovering political economic opportunities for leaders to make better decision. Each Cambridge Policy Boot Camp is designed to strengthen the thinking capacity and reasoning of the participants in a short burst of time. This is to help them to endure and appreciate the challenges related to driving policy and systems level change. By bringing together a diverse group of stakeholders in the decision-making process, the Cambridge Policy Boot Camp is a co-creation forum for improved understanding about how to create solutions.
  To learn more about the methodology briefly Read More >